Long Snappers came out to TX on June 9 from OK, MN, MI, AL NM and TX to get the best instruction and exposure in the country for Long Snappers. Long Snappers, and their parents/guardians, were instructed on the field, had a film and classroom session, a recruiting seminar and ended the day with a competition with Rubio present and running the camp. Each Long Snapper was filmed and will have a player profile provided for them on RubioLongSnapping.com.
The overall winner of the camp was Adonis Smith (TX, '13). He is headed to Air Force and finished off his high school career in style. Very athletic and he is snapping with great explosion and confidence. The sky is the limit for Adonis!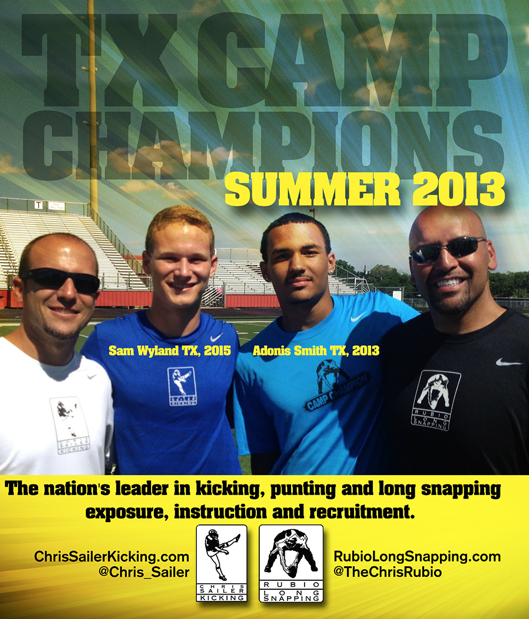 Top 2014
Jordan Frese  (TX) was dominant all day long and left no doubt he was the top 2014 Long Snapper in attendance
Austin Alfaro (TX) was beyond solid all day and has a bright future with his snapping Bronson Bruneau (MN) is big, athletic and overflowing with potential.
Jake Davis (TX) is built very well and snaps with a ton of power Bobby Joe Nielsen (TX) has incredible form and leg power Andrew Robinson (MI) is right on the cusp of being one of the best in his class and with more consistency will have it.
Damian Brinson (LA) is an extremely quick learner with a good frame a bright future. Works hard and works smart.
TOP 2015
  George Madden (OK) was exceptional all camp. He is built very well and snaps hard every single time.
  Garrett Stotts (TX) did well in Texas and showed he has the potential to be a top kid in his class.
 TOP 2016
Travis Arroyo (TX) is big, strong and has incredible form. Snaps with power and is headed in the right direction.
Jonathan Cain (OK) has very quick hands and tons of potential.
Hunter Ryan (TX) is extremely accurate and will be as good as big as he gets.
Rubio Long Snapping will continues it's summer tour with stops at University of Oregon (6/15), University of Washington (6/17), The TOP 12 and EVENT ELITE Camp (6/21-23), The Underclassmen Invite Event (6/29-30), CA (7/11), LSU (7/13), NC (7/15), GA (7/17), The College Camp (7/19-21), MA (7/25), IL (7/27) and CA (7/29)
382