The rankings are completed for ALL  Long Snappers that participated in the Rubio Long Fall Summer Camp in NY.
Always good to be back in the northeast and this time didn't disappoint as Long Snappers came out from NY, NJ, MA, OH, NC, PA, CT & CANADA.
The NY fall camp was dominated by several Long Snappers with the most prevalent being Carson Vey out of NJ. Carson did extremely well all day and is, easily, one of the most athletic Long Snappers in his class.
Top 2015 Long Snappers….
Chaska Moon – Solid Long Snapper that is very bright and snaps the ball hard
Connor Atkins – Won the whole camp with his great accuracy.
Marco Cadavieco – Unstoppable when he snaps the ball as hard as he can
Tristan Epley – Smooth and powerful Long Snapper
Jordan Laube – New to the scene and sitting on a mound of potential.
Chris Sayan – Good first camp with tons to work with by VEGAS XXV
Notables: Stevie Rainero, Keegan Markgraf, Phil MacLean
Top 2016 Long Snappers….
Harrison Freeman – Massive frame and snaps a very smooth ball
John Murphy – ALWAYS is improving
Notables: Vito Nucci, Donovan Cahill, Nate Walker
Top 2017 Long Snappers….
Carson Tebbets – Continues to impress me.
Tristan Sokach-Minnick – Great frame with tons of room to build on.
Jack Moore – Very strong Canadian that could end up dominating the class
Billy Taylor – Very impressive performance and I look forward to seeing him compete at VEGAS XXV
Notables: Ryan Walker, Kevin Cahill
Top 2018 Long Snappers….
Matthew Aloni – Showed well all day long in NY
Hunter Becker – Great form and will dominate if he keeps on this path.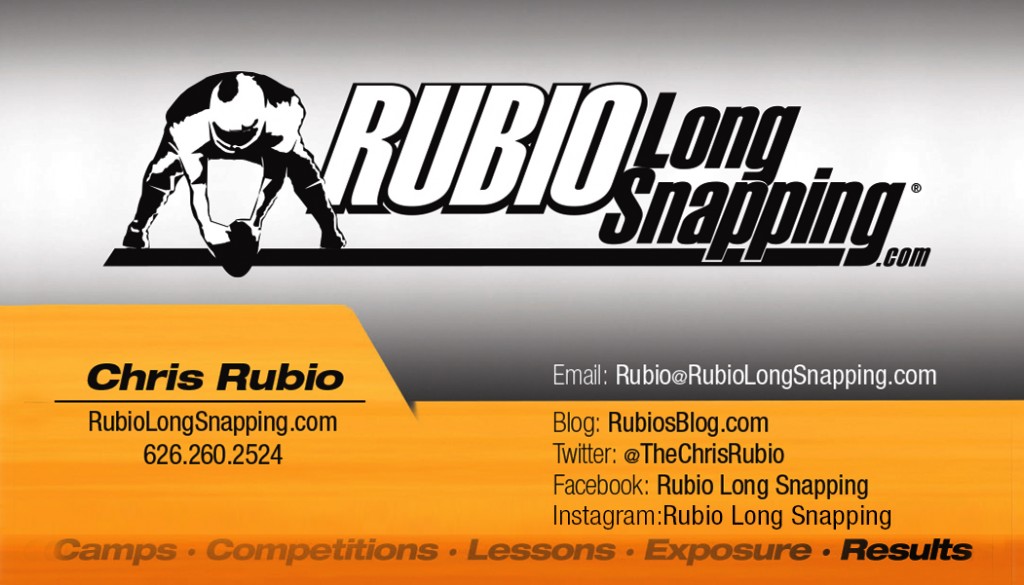 RANKINGS
Next ranking opportunity will be in CA on October 19 and at VEGAS XXV.
KEY POINTS:
My rankings are NOT done just from The Rubio Target
My rankings are NOT done from some mathematical formula.
My rankings ARE done by me and only me. That is why they take a good amount of time. (Think of it this way, it takes MONTHS to build a Rolls Royce but only hours to build an average car)
My rankings are based off of this blog I wrote about what makes a Long Snapper great.
If you would like anything added to your profile page, simply email me (Rubio@RubioLongSnapping.com) the information and consider it done.
All Long Snappers are ranked after their first fall camp of their freshman year in high school.
A Long Snapper has the ability to adjust their ranking anytime I see them LIVE, not on video.
For the rankings section, simply go to RubioLongSnapping.com  rollover PLAYER RANKINGS, rollover which CLASS you are looking for, click that CLASS, click LONG SNAPPERS and find your name.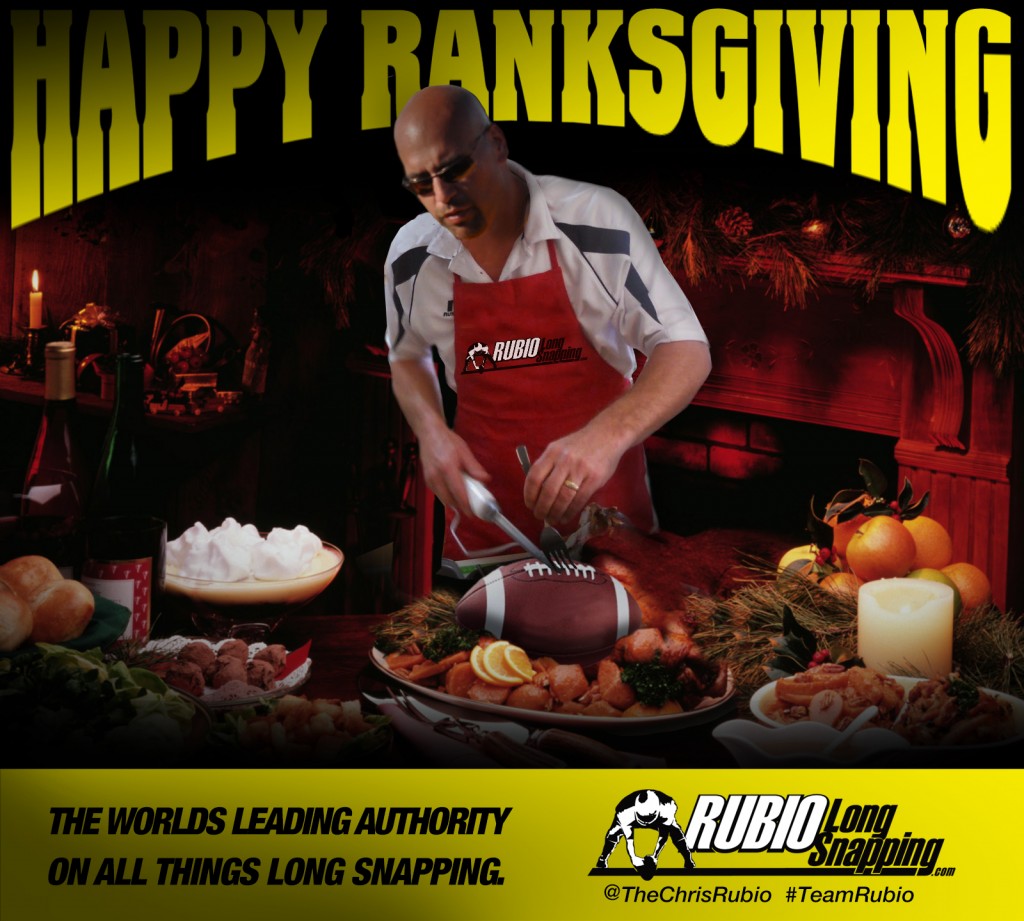 532