As you already know, today is National Signing Day for all high school athletes. It is a monster for coaches, sports writers, athletes and myself (check your Twitter and Facebook feeds).
Bottom line, today is a big day….and I want you to fully grasp how big of a day this is for Rubio Long Snapping and Long Snappers in general.
I received a picture and text from Rubio Long Snapper Carson Tinker of Bama….
He had it sent to him by the top ranked Long Snapper in the country, Cole Mazza. The picture is showing Mazza signing his letter of intent to play at Alabama for the next four years.
Big deal, right?
It gets bigger. Tinker's text to me read "You did that man…I'm proud of Rubio…You make snappers proud….This picture is unprecedented to long snappers and you know that….congrats man. It is historical and you made that happen. Saban has offered a snapper"
Tinker is right. This is historical. Not just for Rubio Long Snapping, but for Long Snappers everywhere. Alabama has never offered a Long Snapper out of high school. Head Coach Nick Saban has never offered a Long Snapper a scholarship out of high school.
Who is next to make history with Rubio Long Snapping?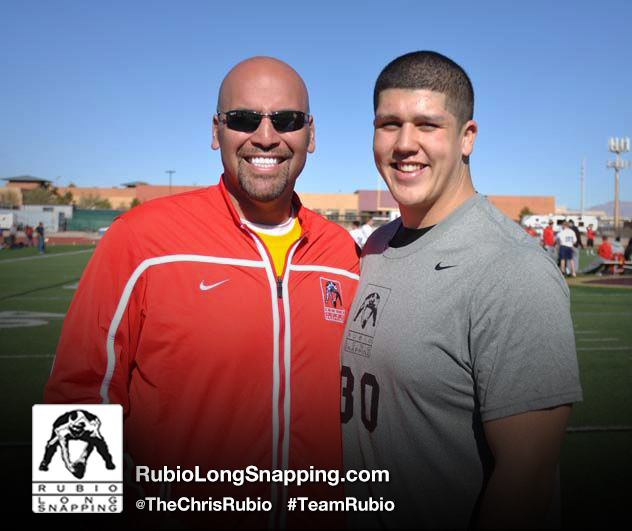 _________________________________________________________________
Rubio Long Snapping is, by far, the biggest and best resource for Long Snappers in the country. Offering the best instruction and most exposure in the world. Rubio Long Snapping can help you to become the best snapper you can be!
In just 12 years, Chris Rubio, President and Owner of Rubio Long Snapping, has become the #1 Long Snapping instructor in the country and the go-to man when a college coach needs a Long Snapper. Colleges from across the country rely on "Rubio's" word day in and day out on who the best Long Snappers are in the country. Rubio Long Snapping has assisted in over 300 Long Snappers earning FULL SCHOLARSHIPS to major colleges and universities just for Long Snapping and many into the NFL as well.
155