Say you are one of the lucky ones that will be playing football next year for a four year university, what do you do now?
You get better! You don't rest on your laurels. You make sure you are as prepared as possible when entering college so the coaches know you are serious and ready to take over the reigns for the next two to four years of your life. Nothing will upset a coach more than a recruited athlete coming in unprepared. That is essentially your first impression to the new staff at your new school and that can easily set you up, in the wrong way, for years to come. Don't be that guy!
Yes, you are allowed to, and could be attending my Long Snapping camps from now until you report to camp for your school….and you should. Going to a camp right before you head off will polish off the rough edges, fine tune you and build your confidence.
You want a more advanced camp with only college level Long Snappers? You can attend the College Camp for Long Snappers on July 19-21 in CA. It will be structured just like the TOP 12 and EVENT ELITE camp but with no current HS players. All participants will be either 2013/JC heading to a four year university or a current college Long Snappers already doing what you believe, think and hope you are ready for in a couple short months.
Regardless, be prepared and don't just sit. You got into college, but you have done nothing there….yet. See you soon!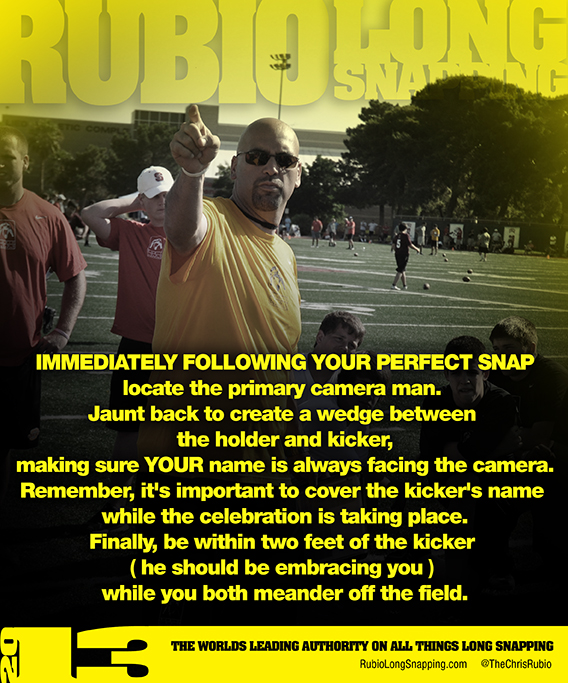 _________________________________________________________________
Rubio Long Snapping is, by far, the biggest and best resource for Long Snappers in the country. Offering the best instruction and most exposure in the world. Rubio Long Snapping can help you to become the best snapper you can be!
In just 12 years, Chris Rubio, President and Owner of Rubio Long Snapping, has become the #1 Long Snapping instructor in the country and the go-to man when a college coach needs a Long Snapper. Colleges from across the country rely on "Rubio's" word day in and day out on who the best Long Snappers are in the country. Rubio Long Snapping has assisted in over 300 Long Snappers earning FULL SCHOLARSHIPS to major colleges and universities just for Long Snapping and many into the NFL as well.
83