EASILY, one of the most common questions I get is "Does my son need to come see you for a lesson?"
My answer is always it is completely up to you.
But, to clarify, let me explain it is like this: Let's say you wash your car every couple weeks.  You will still want to have your car detailed once or twice a year to really, really get your ride in perfect condition.
Now adjust car to person and wash to snapping. Cleared up for you?
That is what I do, I get you (or your son) all polished up and ready for the world. And, when I do lessons, it is just as much, if not more, for the parents/guardians, as it is for the actual Long Snapper.
A private lesson with me is very much for the mental aspect of a Long Snapper. You would be surprised at how much a private lesson can benefit someone's confidence and mentality.
For more information on lessons with me, email me at Rubio@RubioLongSnapping.com
For more information on lessons with a Rubio Long Snapping staff member, possibly in your area, email Samantha@RubioLongSnapping.com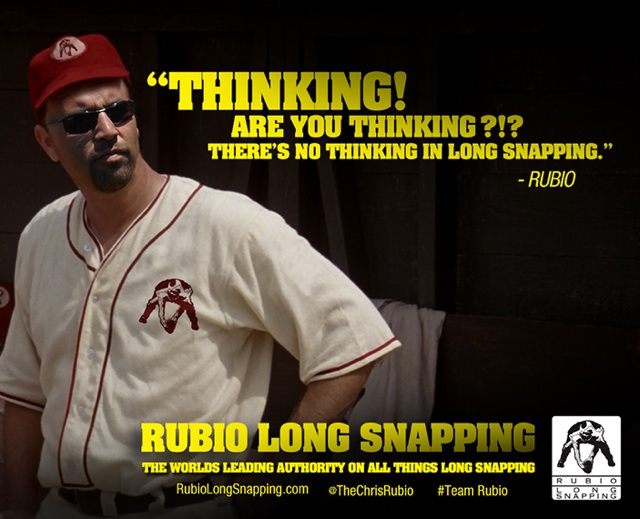 _________________________________________________________________
Rubio Long Snapping is, by far, the biggest and best resource for Long Snappers in the country. Offering the best instruction and most exposure in the world. Rubio Long Snapping can help you to become the best snapper you can be!
In just 12 years, Chris Rubio, President and Owner of Rubio Long Snapping, has become the #1 Long Snapping instructor in the country and the go-to man when a college coach needs a Long Snapper. Colleges from across the country rely on "Rubio's" word day in and day out on who the best Long Snappers are in the country. Rubio Long Snapping has assisted in over 300 Long Snappers earning FULL SCHOLARSHIPS to major colleges and universities just for Long Snapping and many into the NFL as well.
1145