National College Signing Day for 2013 has concluded and once again Rubio Long Snapping is in the middle of the action.  Alabama, USC, Nebraska, and Michigan top the list of schools that have received commitments from Rubio Long Snappers.
6′ 2″ 241 lb. Cole Mazza from Bakersfield, CA committed to the Crimson Tide as one of 25 commitments to the nation's number one college football program.  Originally committed to UCLA Mazza de-committed from the Bruins when it became clear that he was the number one long snapper prospect for D1 college football programs.  Chris Rubio isn't surprised noting in an interview with Alabama website AL.com that "I can honestly say I have never seen such an overall dominant performance by a long snapper.  There was no doubt he was the best in the country. Mazza is as good, if not better, than advertised. If he continues at this pace with his snapping and his attitude, there is no telling how far he can go."
Other promising Rubio Long Snapping alumni include Zach Smith to USC, Chase Domiguez to Utah, Gabriel Miller to Nebraska, Scott Sypniewski to Michigan. Brendan Turelli to Wyoming, Mike Lizanich to Tulane and Tucker Estheridge to Louisiana Tech.  In all thirty two Rubio Long Snapping alumni committed to major college football programs reaffirming that when it comes to Long Snapping Rubio leads the pack.  Click HERE for the complete list and visit rubiolongsnapping.com for more details on upcoming camps and the value of being a talented high school Long Snapper.
To see a full list of Long Snappers that have gone through Rubio Long Snapping and went onto college, and beyond, click HERE and enjoy!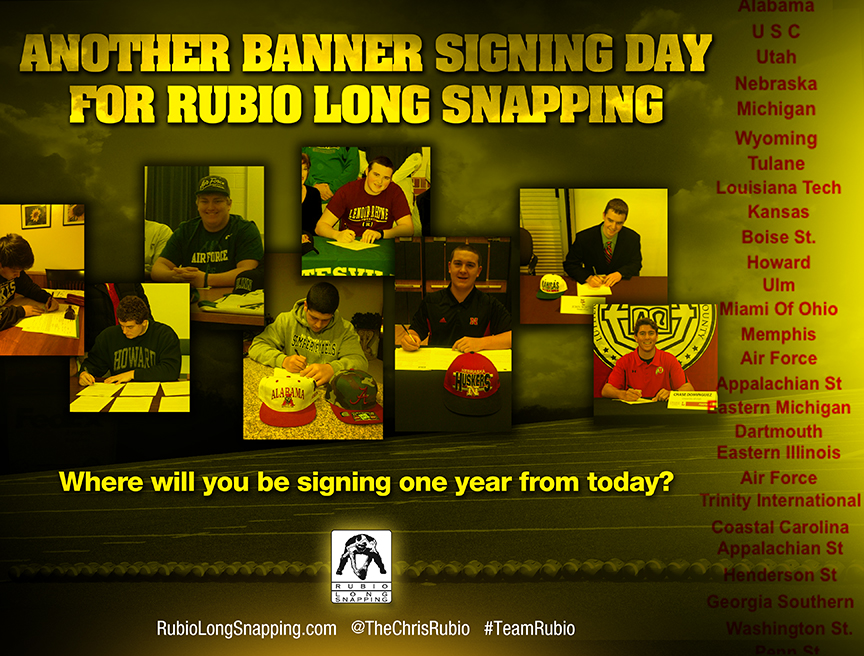 _________________________________________________________________
Rubio Long Snapping is, by far, the biggest and best resource for Long Snappers in the country. Offering the best instruction and most exposure in the world. Rubio Long Snapping can help you to become the best snapper you can be!
In just 12 years, Chris Rubio, President and Owner of Rubio Long Snapping, has become the #1 Long Snapping instructor in the country and the go-to man when a college coach needs a Long Snapper. Colleges from across the country rely on "Rubio's" word day in and day out on who the best Long Snappers are in the country. Rubio Long Snapping has assisted in over 300 Long Snappers earning FULL SCHOLARSHIPS to major colleges and universities just for Long Snapping and many into the NFL as well.
89