Long Snappers came out to NC to attend the Rubio Long Snapping NC Camp on March 1st from NC, SC, FL, VA, PA, MA, KY, DE, MD, OH, NY, TN and CT to get the best  Long Snapping instruction and exposure in the country for Long Snappers. Long Snappers, and their parents/guardians, were instructed on the field, had a film and classroom session, a recruiting seminar and ended the day with a competition with Rubio present and running the camp. Each Long Snapper was filmed and will have a player profile provided for them on RubioLongSnapping.com.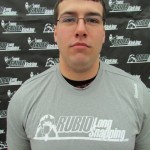 The overall winner of the  winner of the camp was Kyle Landis (14) out of PA. Kyle is a very thick Long Snapper that uses his strength very well. He snaps a nice, crisp, hard ball that gets back to the punter quickly. Did a good job of handling the pressure and improved throughout the day.
Top 2014 Long Snappers….

Top 2015 Long Snappers…

Other notable 2015 Long Snappers….Chris Lutzel, Marco Cadavieco, Caleb Hendrix, Hunter Colonna, Tyler Griffiths. Jacob Schwind, Jackson Mahorney, Erik Lawson and Chaska Moon
Top 2016 Long Snappers…..

Other notable 2016 Long Snappers…..Skyler Korinek, Ryan Landis, Kyad Agha, Ben Wyatt, Jack Wellenhoffer
Top 2017 Long Snappers…..

Other notable 2017 Long Snappers….Ben Reeder
For the full spring and summer schedule, please go to RubioLongSnapping.com!
389